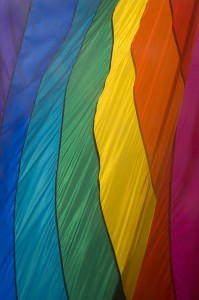 It's been a roller-coaster of a week for LGBTQ rights:
On Tuesday, Congressional champions of equality re-introduced the Equality Act, legislation that would update federal civil rights law to protect LGBTQ people from discrimination in housing, employment and public spaces, like restaurants.
These champions and co-sponsors include Sen. Tammy Baldwin (Wis.), the first openly gay senator, and Rep. Kyrsten Sinema (Ariz.), the first openly bisexual person elected to Congress.
Will you chip in $10 to each of them right now to say 'thanks' for standing up for these critical rights?
Now today — almost as if to dampen this good news — Donald Trump is expected to sign an executive order that will allow any company, non-profit or contractor that receives government funding to discriminate against LGBTQ people.
It would also have a devastating impact on women, allowing these same groups to claim "religious freedom" as a thinly veiled excuse for denying women (and men!) birth control and other reproductive health services. But religious freedom doesn't give anyone the right to discriminate.
Tammy and Kyrsten are fighting for us there too — will you fight for them by chipping in $10 to each of their re-election campaigns?
Wisconsin is expected to be an especially tough fight next year, since the state flipped to Trump in 2016.
Thanks for acting fast,
The WomenCount Team