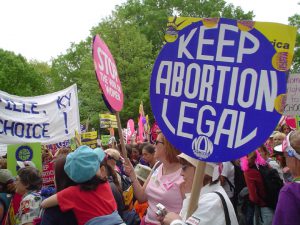 With Amy Coney Barrett nearly assured a seat on the Supreme Court, Roe v. Wade could soon be overturned.
This is an emergency for abortion rights, but it is notthe end of legal abortion in our country. Every Democrat-controlled state can pass legislation to explicitly protect abortion rights. Fourteen states and DC already have—Virginia just this year, after the state legislature flipped to Democrats in 2019.
And that's where we can help lay a path forward.
Our 2020 Battlegrounds for Abortion Rights slate focuses on four states—Arizona, Michigan, North Carolina and Pennsylvania—where Democrats can flip state legislative chambers and begin working to protect abortion rights.
Chip in $5 or more to each of the seven candidates on the slate now. These women are poised to help flip state chambers to Democratic control.
Here's the plan for each state:
In Arizona, Democrats can flip both chambers but would still need to deal with the state's Republican governor Doug Ducey. However, Ducey will be out in 2022 thanks to term limits, and given the way Arizona is trending, the next governor is likely to be a Democrat.
In Michigan, Gov. Gretchen Whitmer and legislative Democrats have already made abortion rights a priority. In 2019 they teamed up to introduce the Reproductive Health Act, a bill that died in the Republican legislature. If Democrats can flip the state house this year, they can pass the bill through that chamber and keep pressure on the senate.
In North Carolina, Democrats can flip bothchambers this year, and hopefully work with Democratic Gov. Roy Cooper if he wins re-election (it's looking good for him). Cooper has been an ally to abortion rights in the recent past, vetoing a bill last year that would have criminalized doctors who perform them.
And in Pennsylvania, Democrats can also flip both chambers and work with Democratic Gov. Tom Wolf, who has been a strong supporter of abortion rights. During his five years in office, he has consistently vetoed abortion restrictions passed by the Republican-controlled legislature.
Let's flip legislative chambers in these four states and put them in a position to protect choice. Chip in $5 or more to our 2020 Battlegrounds for Abortion Rights slate.