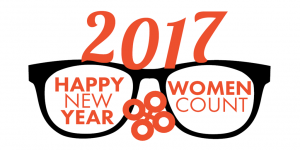 There's no denying that 2016 has been a rough year. The toughest fact, of course, is that our country won't see its first woman president (yet!) and instead elevated to that office the most temperamentally unfit man ever to seek it.
But we don't have time to sit around and despair — and we shouldn't, because at WomenCount, we have something to celebrate. Several things, actually:
We elected 12 new women to Congress. Eight of those women — Carol Shea-Porter (NH), Jacky Rosen (Nev.), Val Demings (Fla.), Stephanie Murphy (Fla.), Pramila Jayapal (Wash.), Nanette Barragan (Calif.), Lisa Blunt Rochester (Del.), and Colleen Hanabusa (Hawaii) — will serve in the House, and four — Catherine Masto (Nev.), Tammy Duckworth (Ill.), Kamala Harris (Calif.), and Maggie Hassan (NH), will serve in the Senate.You can congratulate and support all of these women as part of our Freshman Class slate.
We increased by 9 the number of women of color serving in the U.S. House and Senate. They include the first Latina ever elected to the Senate (Masto), the first Indian American and second-ever African American woman elected to the Senate (Harris), the first Indian American elected to the House (Jayapal), and the first woman and African American elected to Congress from Delaware (Rochester).
We raised more than $350,000 for these women and dozens of others in low-dollar donations through WomenCount, the revolutionary, first-and-only crowdfunding platform dedicated to raising money for Democratic women candidates for elected office.In 2017 we're hoping to vastly exceed that amount and raise more than $500,000 for progressive Democratic women through crowdfunding. You can help us get a jump on reaching that goal by giving $50 to our 2018 Blue Wall — the 10 Democratic women incumbents whose Senate seats we need to protect — or by starting your own team for them.
We built a community of nearly 20,000 members who are dedicated to our mission: making fundraising easier, more accessible and more fun for Democratic women running for office and the individual donors who support them!
We would not have accomplished so much this year without your support, and we will only make gains in the future by sticking together. So from all of us at WomenCount — thank you. Over the next two years we'll be working hard to build on what we've accomplished this year to win big in 2017, 2018 and beyond.
We hope you'll stick with us. Happy New Year!