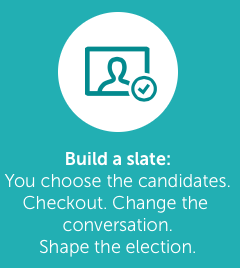 We were tired of having the same conversations again and again about advancing women in politics. So we decided to try something different. Consider this:
Women make up 51 percent of the population but 18 percent of Congress.
Donor fatigue is high, between the barrage of dire and threatening (read annoying) e-mails as well as the mounting focus on super PACs and "dark money."
Crowdfunding is expected to double from a $16 billion industry in 2014 to $35 billion in 2016, which puts the industry on track to account for more total funding than all venture capital.
Millennials account for a high amount of this spending.
Women candidates raise a larger percentage of contributions from smaller dollar donations than male candidates, which means they must spend more time securing individual contributions.
This platform brings crowdfunding to women in politics. It's designed to be easy, accessible, and fun – because supporting women should feel joyful, and important.
Here's how it works:
Simplest: Pick a slate of women candidates who appeal to you…for whatever reason. Donate. Checkout. Follow the prompt to share with friends and multiply your donation.
Simple: Pick candidates individually that you want to support on build a slate. Donate. Checkout. Share with friends.
Somewhat Simple: After you've chosen which slate of candidates to support, start a new team and deploy to your networks. Let your competitive juices flow as you watch your donations elevate your team on the Leaderboard!
So get started on Pick a Slate.
If you have any questions, or just want to leave feedback, contact our help desk. We will reply!
If you love this and want to support our crowdfunding platform, consider a donation to WomenCount.
Remember – this should be impactful, and fun.