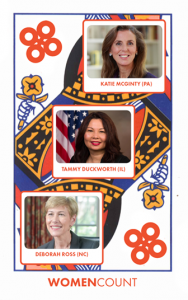 Fresh off of primary wins in their states, three women are running against incumbent Republican Senators whose records on civil rights, reproductive health, and economic security undermine the future of women and working families across the country. Time to play our Woman Card!
Support these three candidates on the 'Woman Card' slate and unseat these incumbent Senators in November. Play now.
Katie McGinty, former aide to Gov. Tom Wolf, soundly won her primary in Pennsylvania Tuesday and will now face incumbent Sen. Pat Toomey, who has sponsored legislation to create religious exemptions to anti-discrimination laws and voted to defund Planned Parenthood.
Rep. Tammy Duckworth is running against Illinois Sen. Mark Kirk, who supported the Keystone XL pipeline and blocked legislation to increase the minimum wage and funding for housing vouchers.
Deb Ross, a civil rights activist and attorney, will face incumbent North Carolina Sen. Richard Burr, who has also voted to defund Planned Parenthood and against pay equity legislation.
Contributing to these candidates will help them be competitive against sitting incumbent Senators and their war chests.
Donate $5 or more to each of these women on the 'Womans Card' slate. Play now.
In addition to these three primary winners, women are poised to be the Democratic Senate nominee in Iowa, California, Nevada, Arizona, and New Hampshire. The Womans Card slate will grow, so stay tuned.