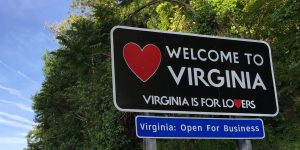 Tuesday was a blowout —–  and we have women to thank.
What was initially predicted to be a razor-thin win turned into a 9-point victory for Gov.-elect Ralph Northam, but it was our down-ballot women who gave his victory wings.
A whopping 12 of WomenCount's 15 competitive candidates claimed victory, including every single woman on our Hillary Effect slate —–  districts held by a Republican that she carried last year —–  and on our partner Local Majority's slate. 
And it gets better: Of the 15 seats Democrats flipped in the Virginia House of Delegates, 11 were won by women (all had been previously held by men). After a handful of runoff races are decided, Democrats could control the chamber.
The winners from WomenCount slates are: Dawn Adams, Hala Ayala, Karrie Delaney, Kelly Fowler, Jennifer Carroll Foy, Wendy Gooditis, Elizabeth Guzman, Kathleen Murphy (incumbent), Debra Rodman, Danica Roem, Kathy Tran, and Cheryl Turpin.
The lesson here is clear: When women see a problem in their communities, we organize, we donate and we run. And when we run, we win. 
We launched the WomenCount crowdfunding platform two years ago because we saw a problem: Women candidates get fewer donations than men, and rely more than men on small-dollar donors. That means they have to spend more time fundraising, just to break even with a male opponent.
There needed to be an easier way for women to pool their resources, as donors and as candidates. So we created a crowdfunding platform where donors could bundle their giving and get their friends excited about candidates by creating hand-picked slates.
In this respect, Virginia's legislative races are our biggest success yet. We raised nearly $25,000 during the last month and a half for Virginia candidates, with an average donation amount of around $50. And more people than ever are engaged and excited about supporting Democratic women with their hard earned dollars.
Now, on to more successes like these in 2018 and beyond!
Thanks for everything you do.