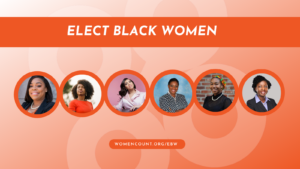 We hope you're celebrating this three-day weekend with action—serving your community, fighting systemic racism, and learning more about the United States' history of slavery and its lingering effects on our lives. But rest if you need it and are able to take it. We can't be activists for the long haul if we don't occasionally take a break. 
One reminder: Please add giving $5 to Elect Black Women PAC and their endorsed candidates to your to-do list.
There are six candidates with upcoming races in June and July:
June 28: Illinois and New York
Kina Collins, US House, IL-7: Kina is a nationally recognized gun violence prevention and health care advocate. She's challenging incumbent Democratic Rep. Danny Davis.
Chakena D. Perry (i) and Precious Brady-Davis, Chicago MWRD: Chakena is running to retain her current seat, while Precious is hoping to be elected to a full term on the board of the nine-member Metropolitan Water Reclamation District.
Tamika Mapp, NY State Assembly, District 68: Tamika is an Army veteran and the founder and small business owner. She's challenging incumbent Eddie Gibbs.
July 19: Maryland
Chiquita Jackson, MD House of Delegates, District 22: Chiquita is the founder and CEO of CJE Consulting, which focuses on diversity, equity and inclusion. This is a multi-member district; Chiquita is challenging three incumbents.
Bernice Mireku-North, MD State's Attorney, Montgomery County: Bernice is a former Assistant State's Attorney and Managing Attorney of The North Law Group, LLC. She and three others are challenging incumbent John McCarthy.
Give $5 now to each of these women on our Elect Black Women slate.
Thanks, and happy Juneteenth!