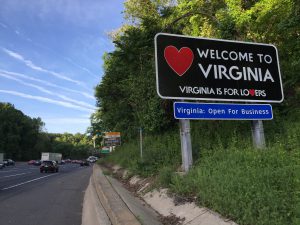 It's officially election season for the off-year!
We're 62 days away from Election Day 2019—on Nov. 5. Labor Day is the signal for campaigns to step up their outreach and fundraising for the two-month final stretch, and that's why we want to get Virginia back on your radar.
Why Virginia? It's the biggest opportunity this year for Democrats to flip a state legislature and make progressive goals—like protecting abortion access and LGBTQ rights, and enacting effective gun reform—a reality. Democrats only need one seat in both chambers to gain control.
And there's another big reason Virginia is important: Redistricting. Recently, a judge threw out Virginia's old state legislative maps due to obvious racial gerrymandering. The new maps include five districts whose partisan lean has now flipped from Republican to Democrat.
So not only are Democrats in a better position to flip the VA legislature because of redistricting—if we do win it back, we can ensure state and federal districts are drawn fairly going forward.
Let's flip VA with women in 62 days. Give now to our Flip VA 2019 slate of the eight most competitive Virginia legislative races.
The candidates are:
Wendy Gooditis (House District 10) and Dawn Adams (House District 68), the only two freshman incumbent women who won their races by less than 5 points in 2019. Wendy beat her Republican rival by 4 points, and Dawn by only .9 points.
Debra Rodman (Senate District 12) and Cheryl Turpin (Senate District 7), two freshman House members who are now running to flip Republican-held Senate districts that Hillary Clinton carried. The last VA Senate elections were held in 2015.
Nancy Guy (House District 83), Martha Mugler (House District 91) and Shelly Simonds (House District 94), who are all running to flip Republican seats that now lean Democratic thanks to the most recent round of redistricting.
And in the marquee race, Sheila Bynum-Coleman (House District 66), who could actually unseat the current House Speaker Kirk Cox. His once-safe Republican district now also leans Democratic by 5 points because of the recent redistricting.
Let's flip Virginia's House and Senate this year. Give $5 or more to each of these women and help our slate hit $2,019 THIS WEEK as the races really start heating up.