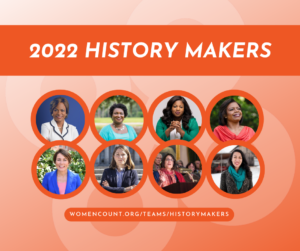 Today is International Women's Day, when countries around the globe celebrate the achievements of women, and acknowledge the barriers that still need to be broken.
At WomenCount, we're working to help break a barrier that keeps women from obtaining parity in politics: The persistent fundraising gap between male and female candidates.
That's why today we're rolling out our 2022 History Makers slate: Eight women who will break a barrier if they're elected this year. Give $5 to each of them.
They are:
Deidre DeJear, who would be Iowa's first Black governor. Iowa is a tough race, but a new Des Moines Register poll has Deidre within 8 points of Gov. Kim Reynolds.
Cheri Beasley, who would be North Carolina's first Black senator. North Carolina is a must win if we want to increase Democrats' numbers in the Senate.
Stacey Abrams, who would be the first Black female governor in the United States. Do we need to say more?
Val Demings, who would be Florida's first Black senator. If she's elected with Cheri, we'll have a record number of Black women serving in the US Senate — two, up from the current (unacceptable) ZERO!
Maura Healey, who would be Massachusetts' first elected female governor, and the first out gay woman to serve as governor in the United States.
Molly Gray, Becca Balint and Kesha Ran Hinsdale, any of whom would be the first woman elected to Congress from Vermont. Give to all or personalize your donation.
Let's make sure these women have the funding they need to make history: Give $5 or more to all eight or customize your donation.