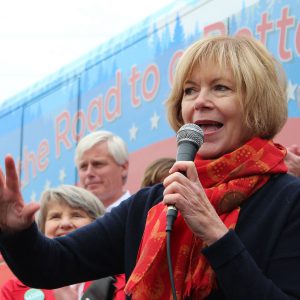 We have good news to start the year.
Because of your generosity, we will expand our platform in 2018. 
That means we'll be able to replicate the crowdfunding success we saw in Virginia—where we raised almost $25,000 for women candidates in just 6 weeks—in gubernatorial and state legislative races across the country. Stay tuned as we add these candidates and create new slates on the platform.
Our original mission to bring the power of crowdfunding to US Senate and House candidates also has not changed. We're funding six women House candidates right now and keeping our eyes on dozens more who could help Democrats take back the House, as well as Reps. Jacky Rosen and Kyrsten Sinema, who could flip the Senate.
And we're still defending our incumbent Senators, who now include the newly sworn-in Sen. Tina Smith of Minnesota.
All of this and more will be on our plate in 2018. What happens in these state and federal races will be a tipping point for our country, between whether we keep trying the misguided policies of the Trump agenda, or start making progress again.
Let's get to work!