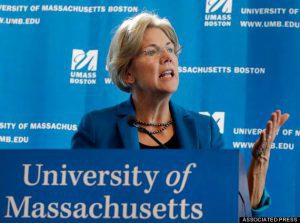 In case you didn't hear what happened: On Tuesday night, Senator Elizabeth Warren attempted to read a letter that Coretta Scott King wrote in 1986 opposing Jeff Sessions' nomination to the federal bench, citing his abysmal history on civil rights.
But before Sen. Warren could finish, Senate Republicans called her out of order–with the now-famous phrase, "she persisted"—and then they voted to bar her from speaking for the rest of the debate.
Senator Warren is exactly the kind of Democratic leader we need right now. Will you tell her thanks for being persistent (and help maintain our Democratic Blue Wall) by chipping in $5 her 2018 campaign?
Sen. Warren has long been a fighter for progressive values, but since Donald Trump's swearing in she has been a model for Democratic persistence and resistance.
In her official capacity she has led the charge against Trump's parade of deplorable, unqualified nominees, including Sessions. And she's also been on the ground with activists, at the Women's March in Boston and at Logan Airport the night hundreds of immigrants and refugees were detained because of Trump's immigration order.
Let's make sure we don't lose her persistent, progressive voice. Chip in $5 to Sen. Warren and other Democrats who are up for reelection. Support our 2018 Blue Wall!