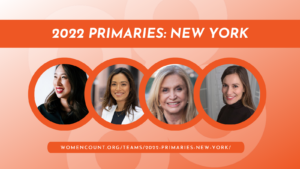 Yesterday the New York Times made its endorsements for the August 23 primaries, and it took the groundbreaking step of endorsing three white guys—Dan Goldman (NY-10), Rep. Jerry Nadler (NY-12), and Rep. Sean Patrick Maloney (NY-17)—in three races where every other serious candidate is either a woman or man of color. 
In fact, there are four women running competitive campaigns in these races, and you can give to each of them by chipping in $20 or more to our New York Primaries slate. They are:
Yuh-Line Niou* (NY-10), a New York State Assembly member who is polling second in the race at 16% (behind Dan Goldman's 18%). She's being out-raised 4:1; 
Carlina Rivera* (NY-10), who represents District 2 in the New York City council and is currently polling third in the race at 14%. She's being out-raised 3:1; 
Rep. Carolyn Maloney (NY-12), a long-serving member of Congress who still represents two-thirds of this redrawn district; 
And Alessandra Biaggi (NY-17), who represents New York Senate District 34. She's being out-raised 5:1. 
These endorsements are completely out of step with the current moment, when we've seen renewed activism among women in the wake of Dobbs, we see that activism boosting Democrats' midterm chances, and we have research that shows women candidates are better messengers on abortion rights.
It's also out-of-step with the Times' own 2020 endorsements, when they picked two women—Sens. Elizabeth Warren and Amy Klobuchar—for the presidential nomination in the name of progress. 
Now, we have four female candidates who are struggling to fundraise against male opponents, and the Times has ditched progress when their endorsement could be a make-it-or-break-it moment.
It's a massive error of judgment on the part of the editorial board.
If you're mad like we are , help these women overcome this slight: Chip in $20 or more to our New York Primaries slate.