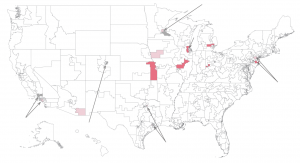 Reminder: This Sunday is Father's Day!
Women-focused organizations (including us) are quick to leverage Mother's Day for activism and support —–   but why are we always leaving out the Dads? Very likely there is a father in your life who told you, your daughter, or your mom that you could do anything or be anything.
That's why, this year for Father's Day, we invite you to donate to our WomenCount 2018 Victory Fund in honor of a dad who shaped your dreams. 
After you make your donation, you'll be invited to leave dad's name, contact info and a special note, and we'll send it to him bright and early on Father's Day. 
It's sad, but true —–   our nation's little girls can't look to the President any longer as an example of feminist fatherhood. But they can still look to the men in their lives.
In a time when women's rights and access to health care are being targeted, and an unabashed misogynist sits in the Oval Office, it's more important than ever to recognize the men in our lives who are pushing back on this behavior.
If there's a dad in your life who worked hard every day to ensure your dreams weren't limited by gender, honor him today by giving to our 2018 Victory Fund of candidates who will unseat House Republicans, and help other women beat back the anti-woman tide rolling into Washington.